Basics About Your Mercedes-Benz Brakes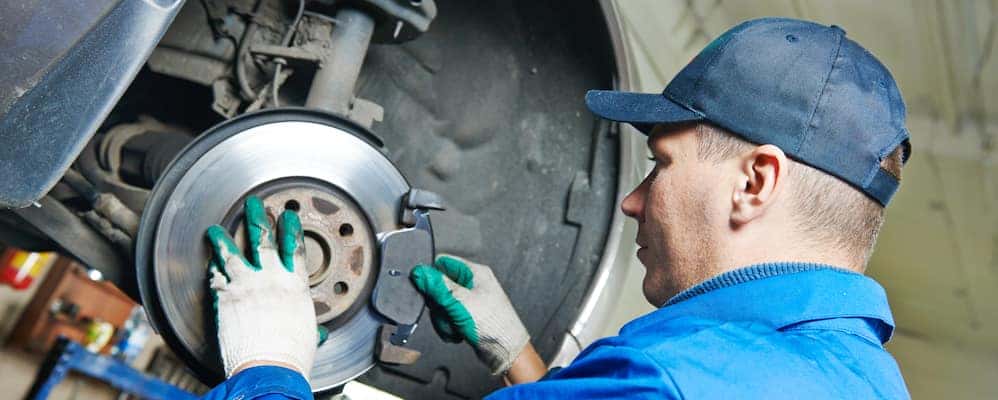 Whether you drive an A-Class, GLC, or AMG® GT, your car's brakes are the cornerstone of its safety and handling. Fortunately, you don't need to travel far from Los Angeles to get the expert brake service your car demands. The service center at Mercedes-Benz of Arcadia offers comprehensive brake repair for new and pre-owned vehicles. Read on to learn some basics about your Mercedes-Benz brakes and how our team of knowledgeable service technicians can help you keep them in peak condition.
Common Problems with Brakes
Regardless of make or model, there are issues that can arise with car braking systems that require the attention of professionals. Keep an eye out for the following problems, and if you notice them, schedule service as soon as possible:
Brake Fade: Brake fade is when your car's stopping distance increases and is usually the result of brake overheating.
Strange Noises: Grinding and squealing noises are often caused by worn brake pads that need to be replaced.
Soft Brake Pedal: If the brake pedal feels squishy when you push it down, the brake system may be low on brake fluid.
Stuttering Brakes: Failing antilock and traction control sensors can cause your car's brakes to perform irregularly.
Steering Wheel Shaking: Warped rotors can disrupt the balance of your front wheels and cause the steering wheel to shake.
Pulling Left or Right: The brake caliper on one side of the car may be stuck and the brakes are wearing unevenly, causing pulling to the left or right.
What Are the Benefits of Brake Service?
Improved Safety: This is the first and foremost benefit. Your car's brake system is its most important safety feature. Keeping your brakes in working order is one of the best ways to protect yourself, your car, and others on the road.
Avoid Unnecessary Repairs: Staying up-to-date with routine service can be a challenge, but it's much more cost-effective to resolve a small problem with your brakes now than to pay for a full brake system overhaul down the road. Our service team will inspect your car's brakes for any signs of wear and tear and offer solutions at a reasonable price. We have a revolving door of service specials and parts specials for this very reason!
Lengthen the Life of Your Brakes: Whether you drive a Mercedes-Benz or an AMG®, you want its brakes to last, along with its other systems. This isn't possible unless you stay current with preventative maintenance.
Rely on the Experts for Mercedes-Benz Brake Service
When it comes to Mercedes-Benz service, it's best to bypass the independent shops and third-party chains and come straight to the experts. Our team knows Mercedes-Benz brakes inside and out and diagnose brake pad wear, sensor malfunctions, warped rotors, and more. Additionally, you can depend on us to use nothing but genuine OEM parts and fluids to service your car's brake system, so you'll get the best possible performance and longevity for your money.
Schedule Brake Service at Mercedes-Benz of Arcadia!
Are your car's brakes due for service or you interested in upgrading your brakes? Contact us at Mercedes-Benz of Arcadia for more information about our services. You're also welcome to pay us a visit near Pasadena and Alhambra and explore our AMG® Performance Center and learn more about AMG® brakes. Have questions about other Mercedes-Benz service topics, like how to replace a Mercedes-Benz key fob battery? We can help with that, too! Call us at to learn more.