Mercedes-Benz Oil Filter Replacement
---
One very important but sometimes unnoticed part of Mercedes-Benz service is the oil filter replacement. The oil system on your Mercedes-Benz needs attention to keep your luxury vehicle running well. Schedule service today and read more about our Mercedes-Benz oil filter replacement services, when to get them, and other services we offer below.
What is a Mercedes-Benz Oil Filter Replacement?
The oil in your vehicle keeps it running smoothly on Los Angeles roads. As you drive, your oil becomes dirty with debris and less efficient with age. An oil change helps this, but your oil filter is also an important line of defense. So, when do you need an oil filter replacement or an oil filter housing replacement on your Mercedes-Benz? Here is some important information:.
Service Menu: There is a Mercedes-Benz service menu designed specifically for your vehicle, whether you have an SUV or a hybrid electric Mercedes-Benz. Consult these to figure out the best time to take your Mercedes-Benz in for an oil filter housing replacement and other essential services.
Service A and Service B: Some Pasadena Mercedes-Benz owners may have received a notification saying their vehicle is due for Mercedes-Benz Service A and B.These are standardized services that Mercedes-Benz recommends to all their drivers so they can keep their machine fine-tuned.
How often should I get a Mercedes-Benz Oil Filter Replacement? It's recommended that Mercedes-Benz drivers get an oil filter replacement for both Service A and Service B, at the 5,000 and 10,000-mile marker. For an oil filter housing replacement on your Mercedes-Benz, it won't need to be as often.
Motor Oil Replacement: Speaking of oil, many luxury Mercedes-Benz vehicles use synthetic motor oil, a longer-lasting version of conventional motor oil.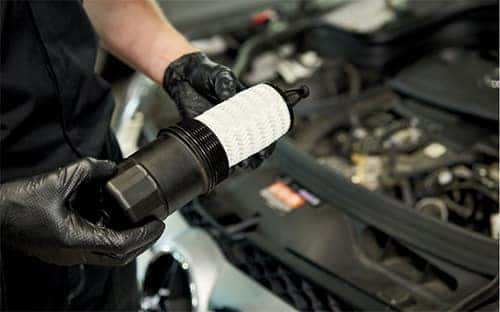 Why Get Mercedes-Benz Service at Mercedes-Benz of Arcadia?
There are a lot of reasons to get service with us when you need any Mercedes-Benz oil service in the Alhambra area. Your Mercedes-Benz is a sophisticated machine that demands expertise and care. Here are some of the resources we've set up for you:
Certified Technicians: Our Mercedes-Benz-certified technicians know the ins and outs of your vehicle, so you can be sure all the official service recommendations are being followed at our service center.
OEM Parts: We use Original Equipment Manufacturer (OEM) parts at our parts center, meaning there's no question that you're getting the exact part you need on your vehicle.
Value: With our service specials, and express service, you get a customer-focused experience at Mercedes-Benz of Arcadia.
Contact Mercedes-Benz of Arcadia for Mercedes-Benz Service!
Whether you're having problems with your Mercedes-Benz or you're just looking to keep it in pristine condition, Mercedes-Benz of Arcadia has Arcadia drivers covered! Contact us today with any questions about Mercedes-Benz oil filter housing replacement, Mercedes-Benz air filter replacement, and more!
More From Mercedes-Benz of Arcadia
If you're like a lot of our Arcadia customers, you like to do your research before buying a car. Fortunately, for you, we've read just about every majorMercedes-Benz GLE 500 Hybrid review so that you don't have to. Let us tell you, the reviews are downright effusive. We've put together some of the Mercedes-Benz GLE…

Through its EQ product brand, Mercedes-Benz is setting the definitive standard for luxury in electric vehicles. Every Mercedes-Benz EQ interior has been noteworthy, but the Mercedes-Benz EQS interior is the boldest statement yet. It is finally arriving in the Los Angeles area, with an anticipated release date in Q3 or Q4 of 2021. The Vision EQS…

The all-new Mercedes-AMG®® GT Black Series has been carefully developed to enhance the already incredible performance of the venerable Mercedes-AMG®® GT Coupe. With a fully reengineered engine, enhanced aerodynamics, and race-bred features, the Mercedes-AMG®® GT Black Series transforms this luxury grand tourer to a fully-fledged supercar. So just what makes the Mercedes-AMG®® GT Black…