Mercedes-Benz Brake Inspection
---
To state the obvious, your brake system is of paramount importance. And Los Angeles Mercedes-Benz owners owe it to themselves to get a Mercedes-Benz brake inspection at Mercedes-Benz of Arcadia, where our certified technicians will help you keep your sophisticated machine in optimal shape. Schedule service today and read more about our Mercedes-Benz brake and light inspection services below!
What Does Brake and Lamp Inspection Involve?
Brake and light inspection near Los Angeles is highly recommended so that your car keeps rolling around Pasadena in optimal shape. Your brake system is complicated, but very important. Here are some things to know about Mercedes-Benz brake and lamp inspection, maintenance, and repair:
Service Menu: The Mercedes-Benz service menu recommends regular inspection on many parts of your Mercedes-Benz vehicle, including your brakes, brake fluids, and lights. Compare your mileage to these lists and see what kind of Mercedes-Benz brake and lamp inspection you need.
Mercedes- Benz Brake Fluid Change: Every two years or 20,000 miles, it's recommended that you flush out all the contaminated and old brake fluid from your vehicle so it operates properly.
Mercedes-Benz Light Inspection: A good service station will check your interior and exterior lights once every 5,000 miles.
Service A and Service B: Mercedes-Benz Service A and B are another system of classification that Mercedes-Benz uses to arrange when to get a brake inspection on your Mercedes-Benz.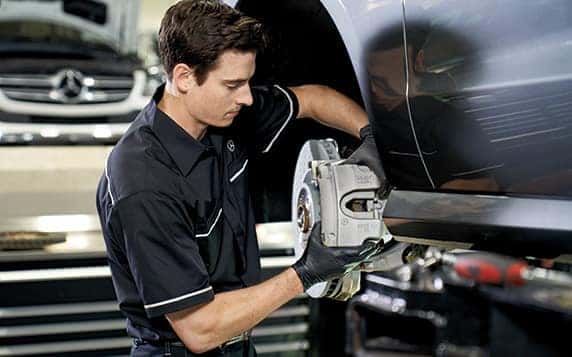 Why Get Mercedes-Benz Service at Mercedes-Benz of Arcadia?
We've worked hard at Mercedes-Benz of Arcadia to build a comprehensive service and parts center for Alhambra-area drivers. There are lots of reasons to get service with us when you need a Mercedes-Benz brake and light inspection near Los Angeles.
Certified Technicians: A Mercedes-Benz vehicle is a fine-tuned machine that needs special attention. Our technicians have been certified by Mercedes-Benz so you know that you're in the care of people that work with Mercedes-Benz all the time.
OEM Parts: Our parts center exclusively replaces your worn out parts with Original Equipment Manufacturer (OEM) parts. This means that it's the exact same piece of equipment your vehicle originally used and it's a guaranteed fit for your needs.
Value: We've got service specials. We've got express service. We've got a comfortable, large longue for you to wait in. Your time and money will not be wasted!
Trust Mercedes-Benz of Arcadia for Mercedes-Benz Brake and Light Inspections!
As you can see, if you're looking for a Mercedes-Benz brake and light inspection near Los Angeles, Mercedes-Benz of Arcadia is ready to help! Please reach out and Contact us with any further questions about Mercedes-Benz brakes and other essential services!
More From Mercedes-Benz of Arcadia
If you're like a lot of our Arcadia customers, you like to do your research before buying a car. Fortunately, for you, we've read just about every majorMercedes-Benz GLE 500 Hybrid review so that you don't have to. Let us tell you, the reviews are downright effusive. We've put together some of the Mercedes-Benz GLE…

Through its EQ product brand, Mercedes-Benz is setting the definitive standard for luxury in electric vehicles. Every Mercedes-Benz EQ interior has been noteworthy, but the Mercedes-Benz EQS interior is the boldest statement yet. It is finally arriving in the Los Angeles area, with an anticipated release date in Q3 or Q4 of 2021. The Vision EQS…

The all-new Mercedes-AMG®® GT Black Series has been carefully developed to enhance the already incredible performance of the venerable Mercedes-AMG®® GT Coupe. With a fully reengineered engine, enhanced aerodynamics, and race-bred features, the Mercedes-AMG®® GT Black Series transforms this luxury grand tourer to a fully-fledged supercar. So just what makes the Mercedes-AMG®® GT Black…