Pre-Order the Redesigned 2019 Mercedes-Benz G-Class at Mercedes-Benz of Arcadia!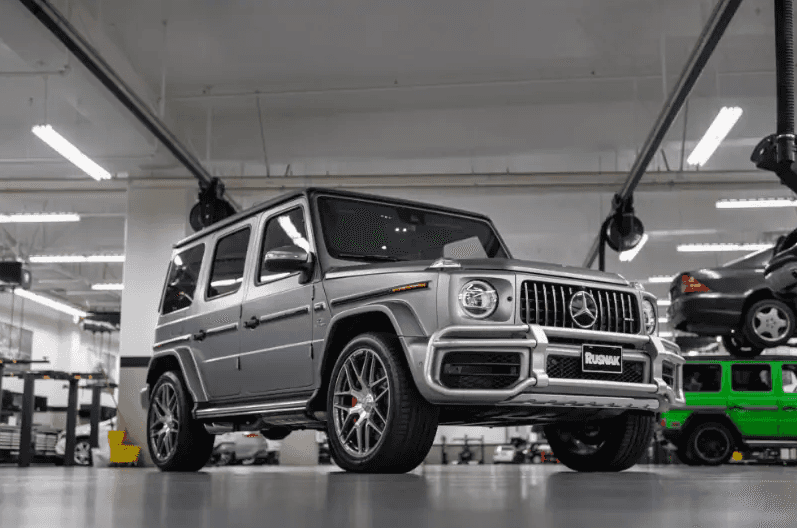 ​For nearly 40 years, the Mercedes-Benz G-Class has been a symbol of status, exemplifying the highest standard of luxurious off road capable SUVs. This year's 2019 G-Class has been completely redesigned from the ground up, retaining its iconic upright, boxy build but improving on both on and off road performance and enhancing interior luxury and comfort to provide you with a vehicle that won't just turn heads around Los Angeles, it will turn any outing behind the wheel into a fun adventure.
This year's 2019 Mercedes-Benz G-Class is larger than previous model years, offering a longer and wider build that increases the wheelbase and provides rear passengers with 5.9-inches more of legroom. Inside the cabin, you're greeted with a variety of premium materials and state of the art features, including quilted leather upholstery, an ambient lighting system with 64 colors to choose from, a premium surround sound system, and a 12.3-inch single glass display for driving information and the COMAND® infotainment system. The steering wheel offers touch-sensitive controls so your hands never have to leave the wheel, and with the suite of driver assistance features, including active lane keeping assist, active brake assist, and more, you can drive with complete confidence everywhere you go. Under the hood, the new 2019 G-Class comes equipped with a 4.0-liter biturbo V8 engine that produces 416-horsepower and is paired with a nine-speed automatic transmission.
The 2019 Mercedes-Benz G-Class is set to arrive later in 2018, but we're currently taking deposits for the 2019 G-Class at Mercedes-Benz of Arcadia! If you want to be the first one to drive the 2019 G-Class around Los Angeles, we welcome you to join us at our dealership in Arcadia, CA to put a deposit down and pre-order the upcoming G-Class today!