2020 Mercedes-Benz CLA Changes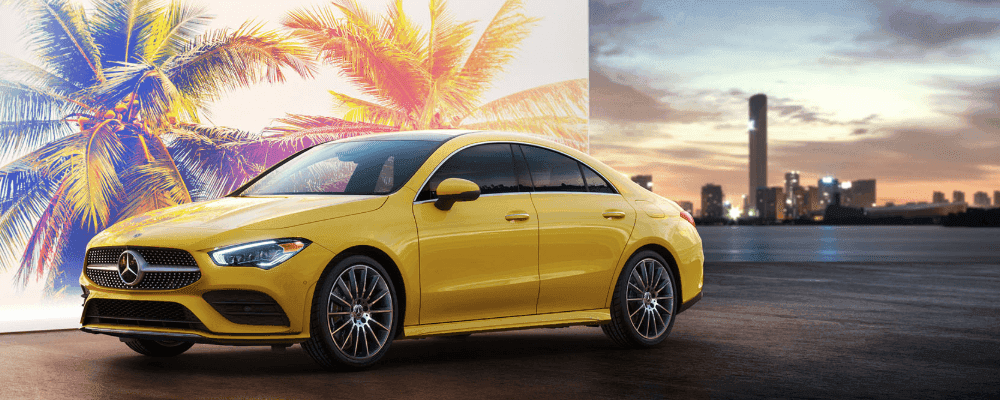 The arrival of the 2020 Mercedes-Benz CLA Coupe is on the horizon, and it's bringing with it a refreshed design, techier features, and more powerful performance. It's slated to arrive this fall, so keep your eye on our new coupe inventory here at Mercedes-Benz of Arcadia! Want to know what the 2020 Mercedes-Benz CLA changes have in store? Read on for more details and see what sets it apart from the 2019 CLA!
2020 CLA Exterior Design Updates
The Mercedes-Benz CLA is getting a new look for the 2020 model year. Mercedes-Benz is doing away with the dramatically sharp lines. The CLA Coupe's overall look will be more effortless, with soft and sweeping lines that draw attention to key parts of the exterior. The longer and lower slung hood is reminiscent of the higher tier CLS, giving the CLA a more luxurious appearance.  Additionally, the size of the CLA Coupe will change. Compared to its predecessor, the 2020 Mercedes-Benz CLA will be 0.08 inches shorter, 2 inches wider, and 1.9 inches longer. The wheelbase will also grow 1.1 inches longer, while the front track and rear track will widen by 2.5 inches and 2.2 inches, respectively. These changes aren't purely cosmetic; the wider tracks will give the CLA a stronger cornering ability.
2020 CLA Interior Style & Features
The interior of the 2020 CLA Coupe can best be described as youthful. Los Angeles drivers can expect all of the sophistication of models past with modern touches and upgrades throughout the cabin. The circular air vents and flat-bottom steering wheel add a sporty feel to the driving experience, while the "floating" full-color display will inspire you to use the infotainment system whenever you can.  Speaking of the infotainment system, Mercedes-Benz User Experience (MBUX) is standard for the 2020 CLA Coupes. MBUX became available on models like the A-Class, GLE, and Sprinter, and is now making its way inside the latest renditions of other popular models. What's so unique about MBUX? Here's a quick overview:
You can simply say, "Hey, Mercedes-Benz," to activate the system. It also responds to more complicated commands. For instance, you can say, "It's too warm in here," and MBUX will automatically lower the temperature a few degrees.
The system is so intelligent that it can filter out background conversations between your passengers.
MBUX Interior Assistant recognizes and responds to specific no-contact hand gestures, even if it's dark inside the cabin.
2020 CLA Performance Specs
Pasadena drivers can expect a slight bump in power and more refined handling. The CLA 250 will get a 221-hp 2.0L turbo 4-cylinder engine, making it more powerful than the A-Class. What about the AMG® CLA? Mercedes-Benz announced an AMG® CLA 35 with a 302-hp turbo 4-cylinder engine that outputs 295 lb-ft of torque. It'll arrive later this year with a seven-speed dual-clutch automatic and standard 4MATIC®. There will be a second version that's even more powerful, producing up to 416 hp and 354 lb-ft of torque, but there's a good chance it won't be available in the U.S.
2020 CLA Pricing & Release Date
The 2020 Mercedes-Benz CLA is arriving this fall! Due to its redesign and more powerful engine, the CLA price has risen. The CLA 250 will start at $37,645, and the CLA 250 with 4MATIC® will start at $39,645.
Get More Updates About the 2020 CLA Coupe!
Stay tuned for more updates about the 2020 CLA Coupe from Mercedes-Benz of Arcadia, and be first in line to test drive it when it arrives at our dealership! Can't wait to purchase your new CLA? Browse our inventory of CLA Coupes for sale in Arcadia, learn about the Mercedes-Benz CLA lease deals, then contact us to schedule a test drive near Alhambra. We'll show you why we're a go-to for drivers shopping or a Mercedes-Benz near Los Angeles!