2020 Mercedes-Benz CLS

DESIGN
When the first CLS debuted, its "four-door coupe" shape sparked a sleek new era in car design. Now in its third generation, it's in better shape than ever. Standard AMG® styling, 19-inch wheels and LED lighting reveal its lean, toned muscle.
Five seats at the forefront of style.
A flowing sculpture of leather, wood and satin aluminum, the CLS cabin welcomes five passengers to space and style. The roomy rear cabin now offers seating for three. Deeply contoured power front seats envelop you in artful design and advanced comfort.
A sensation for all your senses.
The CLS entices you with a rich palette of leathers and woods, and 64 colors of LED ambient lighting, even in the dash vents. Available ENERGIZING Comfort can relax or rejuvenate you with light, sound, climate and fragrance.
Technology with a human touch.
Smartphone-like Touch Controls let you swipe and select features and settings from the steering wheel. Your left thumb controls the instrumentation screen. Navigation, audio and all the features of the central screen are under your right thumb.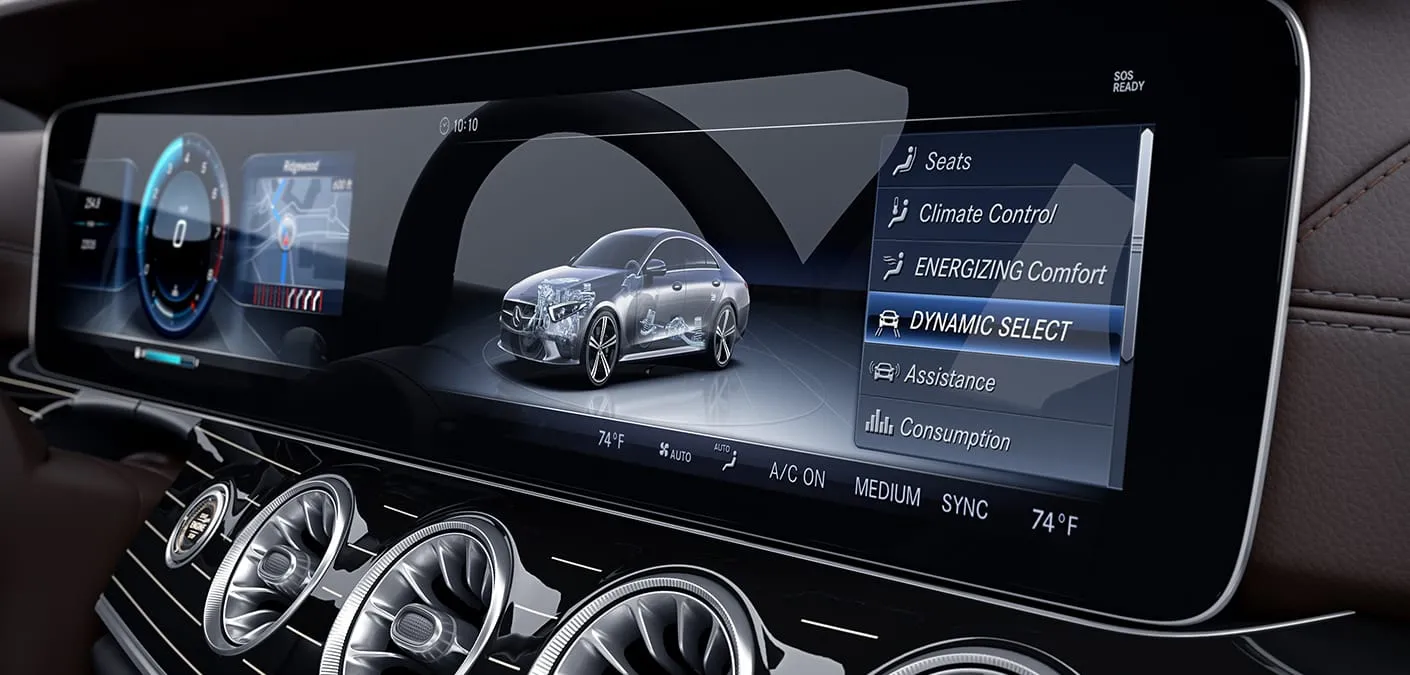 Part control room, part screening room.
A 12.3-inch screen unites navigation, entertainment and numerous comfort settings with intuitive touchpads on the console and steering wheel. An available 12.3-inch digital instrument cluster offers a variety of display designs.

PERFORMANCE
Innovative EQ Boost electrifies an exuberant turbo inline-6 to benefit power, torque, efficiency and emissions all at once. And thrill the driver all the time.
Straight six with an electrifying twist.
A 362-hp turbo inline-6 teams tradition with technology. It's electrified with a 48-volt Integrated Starter-Generator that can seamlessly add up to 21 hp yet allow fuel-free coasting and lower emissions.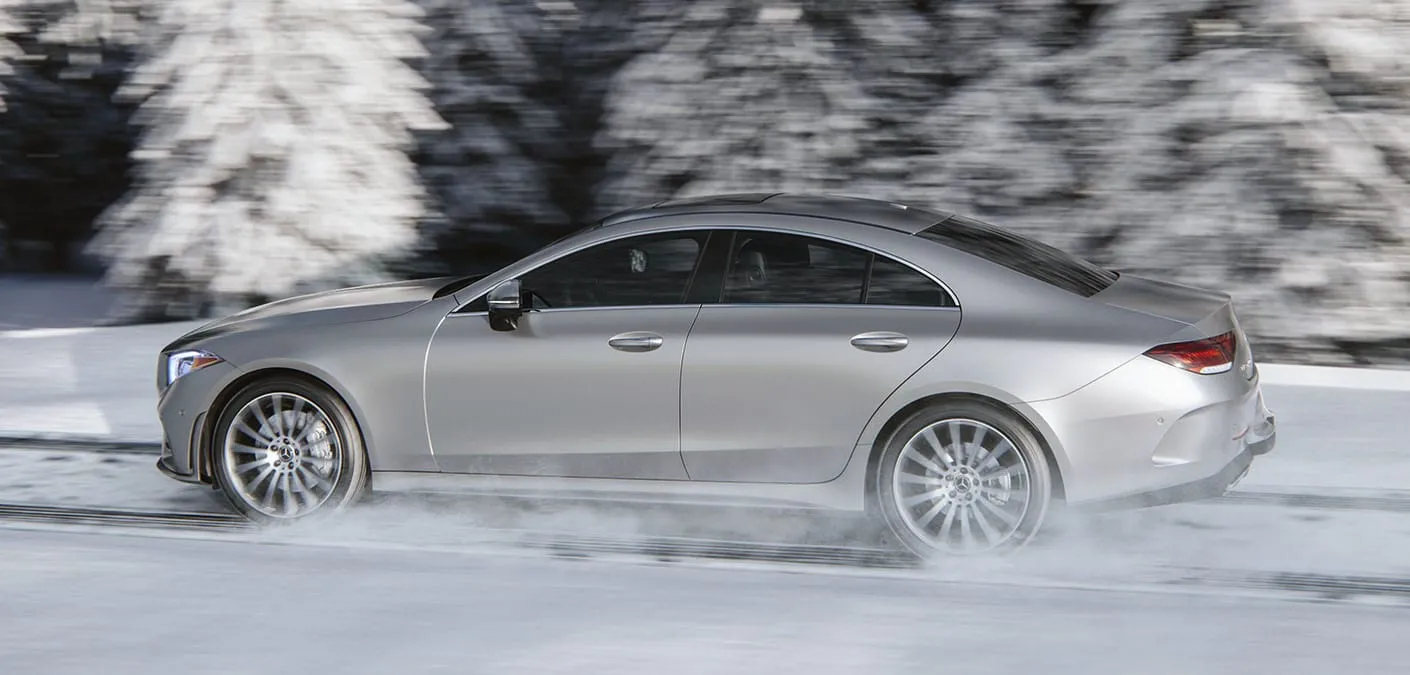 Power in all the right places.
The CLS 450 4MATIC® continually sends torque to the wheels that can use it best. Lightweight, efficient 4MATIC® adds all-wheel driving confidence on slippery roads, heightens fun in dry corners, and even quickens takeoffs. [3]
Nine speeds with know-how.
With nine speeds and fingertip shift paddles, the advanced 9G-TRONIC automatic transmission is more flexible, decisive, and adaptable. The multiple modes of DYNAMIC SELECT let you fine-tune the driving character of your CLS.
Hugs the road, embraces change.
The lowered multilink suspension's selective damping firms up to take on corners, relaxes to tame rough roads. Optional self-leveling AIR BODY CONTROL adapts to the road, to cargo and passenger loads, and to the modes of DYNAMIC SELECT.
INNOVATION
Always a trendsetter in style, the CLS has long been a leader in innovation as well. With industry-inspiring Mercedes-Benz driver assists, lighting advances and cabin tech, the CLS delivers intelligence with intuitive ease.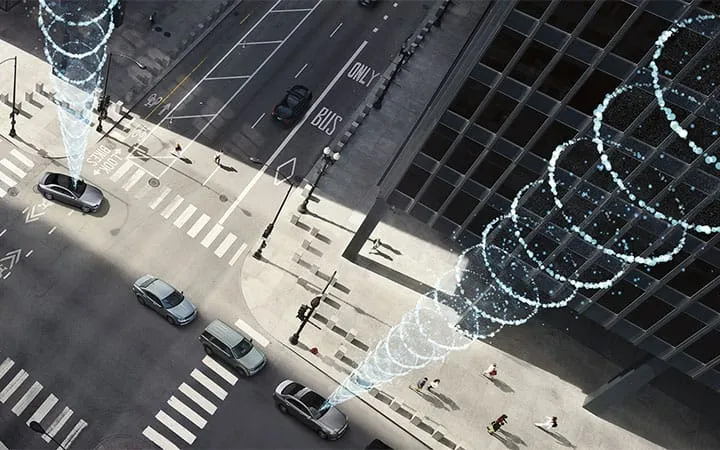 Reaches farther, reacts faster.
"Car-to-X" technology lets your CLS communicate with a central hub to report and receive updates about driving conditions beyond your line of sight. If PRESAFE® Sound detects an impending collision, it can act to pre-trigger your ears' natural defense against loud noises. [4] [5]
Insightful, and in sight.
Virtual instruments appear to float above the hood in a full-color display of vital driving data. The available Head-Up Display lets you see your driving speed, speed limits, navigation info and more while you stay focused on the road. [6] [7] [8]
Protective, proactive and progressive.
It can change lanes with a tap of the turn signal. Read speed signs and slow down. And prepare for an impact before it reaches you. Available driver assists help make driving simpler, safer and smoother, from long drives to hair-raising split seconds. [9]
More brilliant by degrees.
Having pioneered adaptive LED headlamps for all cars years ago, today's CLS reaches far and wide to brighten the road ahead. Available LED headlamps with Ultra Wide Highbeams adapt to corners and other cars, while illuminating more of the roadsides.